When:
February 5, 2018 @ 5:00 PM – 7:00 PM
2018-02-05T17:00:00-05:00
2018-02-05T19:00:00-05:00
Where:
519 Kaneff Tower
4700 Keele St
North York, ON M3J 1P3
Canada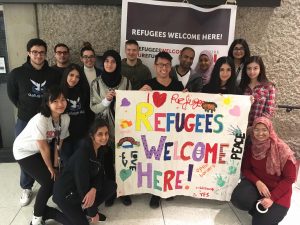 This session's training, being facilitated by the York University Psychology Graduate Student (PGS) Refugee Education Initiative is designed to empower those working and volunteering with refugees by building a healthy, safe, and welcoming environment for refugees arriving to our community.
The PGS team's presentation takes a multisystem developmental approach in introducing the following topics:
The complex and diverse nature of refugees' experiences
The strength and resilience of refugees
Resources available to refugees
Resources available to volunteers and team members
Cultural sensitivity: Awareness, responsibility, and respect
York's Syria Response and Refugee Initiative and World University Service of Canada Keele Campus Committee will also provide information to York students interested in volunteering with York-sponsored and other refugees on how to do so on both of York's campuses. This training is particularly useful for York students who wish to work as volunteer interpreters with Syrian refugees sponsored through York's Syria Response and Refugee Initiative and the Ryerson University Lifeline Syria Challenge.
This session will also provide further background about and information to help engage in/with the York U Refugees Welcome Here! campaign and Refugee Rights Month in the City of Toronto.
Student leaders from other clubs in attendance will also be invited to briefly introduce their work.
We also encourage members of the University community to stop by Vari Hall between 10:00am and 4:00pm the same day to visit the groups participating in the planning and execution of Refugee Awareness Week.
Questions or need further info? Please contact refugees@yorku.ca