When:
January 16, 2017 @ 12:30 PM – 2:00 PM
2017-01-16T12:30:00-05:00
2017-01-16T14:00:00-05:00
Where:
626 Kaneff Tower
4700 Keele St
North York, ON M3J
Canada

Koom Kankesan's Tamil Dream
Presented in celebration of Tamil Heritage Month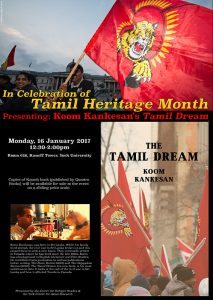 Koom Kankesan was born in Sri Lanka. While his family lived abroad, the civil war in Sri Lanka broke out and this caused them to seek a new home. They eventually settled in Canada and have lived here since the late 1980s. Koom has a background in English Literature and Film Studies. He contributed arts journalism to various publications before writing The Panic Button (2001) and The Rajapaksa Stories (2003). His new book, The Tamil Dream, is his most ambitious to date. It looks at the end of the civil war in Sri Lanka and how it affected Tamils here in Canada.
All are welcome.
Copies of Koom's book, published by Quattro Books, will be for sale at the event on a sliding price scale.
This event is presented by the Centre for Refugee Studies and the York Centre for Asian Research.