When:
November 24, 2020 @ 1:00 PM – 2:30 PM
2020-11-24T13:00:00-05:00
2020-11-24T14:30:00-05:00
Register here by November 20 for the Zoom link https://laps.apps01.yorku.ca/machform/view.php?id=965266
The Resource Centre for Public Sociology (RCPS), Department of Sociology, York University, along with York Centre for Asian Research (YCAR) & the Centre for Refugee Studies (CRS)
invite you to a presentation
Ethnographic Praxis: Reflections on ethics, boundaries, and social change in research with Rohingyas
Dr. Ishrat Sultana, North South University, Bangladesh
York Sociology PhD Alumnus 2019
Methodological issues and challenges around maintaining ethics, ensuring credibility of research, drawing boundaries to balance between subjectivity and objectivity have always been part of the ethnographic praxis. Such issues and challenges deserve extra attention when the research focuses on a vulnerable population in a South Asian country. Doing ethnography with vulnerable people, such as refugees, both limits and opens up the scope of fieldwork for a researcher. This presentation reflects on ethics, boundaries, and social change in research with Rohingya refugees in Bangladesh. Based on my experience of conducting ethnographic research between 2014 and 2016 in the refugee camps at Cox's Bazar, Bangladesh, I discuss my expectations as well as the gap between expectations and reality, access to camps, making decisions on setting boundaries, guarding my subjectivity in order to understand their point of views, and building a relationship of trust and confidentiality with research participants who are stateless, uprooted, and vulnerable. While my presentation mainly focuses on methodological issues, it also reflects on how I have been engaged in doing public sociology. As a faculty member of North South University (NSU) and the Centre for Peace Studies (CPS) of (NSU), I have actively engaged in writing op-ed articles in national English and Bengali dailies in Bangladesh. Staying within sociological boundaries, my articles, which critically analyze the contemporary social issues particularly Rohingya crisis, aim to contribute to positive social changes by involving a large group of non-academic audiences.
Media articles by Dr. Sultana:
Rohingya: Between generosity and uncertainty [https://www.observerbd.com/details.php?id=254880]
Erasure of village names in Myanmar and passivity of the UN [https://www.observerbd.com/news.php?id=277092]
Urgency of National Legal Framework for refugees [https://www.observerbd.com/news.php?id=271731]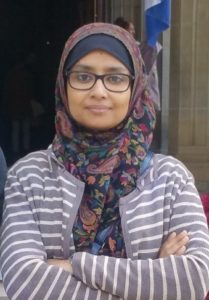 Ishrat Zakia Sultana, Ph.D., is Assistant Professor in the Department of Political Science and Sociology at North South University, Bangladesh and is a 2019 York Sociology PhD Alumni. Her research interests include refugees, citizenship, identity, children, policy, and Asia. Ishrat worked for a decade in the government and with FAO, UNDP and UNICEF Bangladesh, offering technical and strategic advice to government and development partners on empowerment of disadvantaged people that includes coastal fishing communities, street children and at-risk youth without parental care in Bangladesh. She also worked closely with the Ministry of Social Welfare of Bangladesh in designing and organizing a training on proactive approaches to child friendly social work for government and NGO personnel. She published articles and book chapters on Rohingya refugees and garment industry workers in Bangladesh. Her recently accomplished research projects include refugee education in South and South East Asia, and Rohingya's education in Bangladesh without legal identity.
Co-sponsored by:
York Centre for Asian Research (YCAR)