When:
March 6, 2017 @ 9:00 AM – March 10, 2017 @ 4:00 PM
2017-03-06T09:00:00-05:00
2017-03-10T16:00:00-05:00
Where:
York University
4700 Keele St
North York, ON M3J 1P3
Canada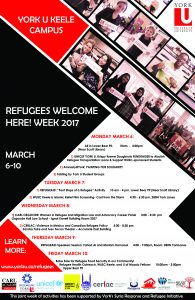 Refugees Welcome Here!
Week (March 6-10) at the Keele Campus of York University features York students and campus supported by York U's Syria Response and Refugee Initiative (www.yorku.ca/refugees) of the Centre for Refuge Studies working together under a common banner to engage the campus and wider community around refugee rights and protection.
The week includes student and community activism and speakers including some of the most prominent refugee advocates and human rights activists in Canada, as well as a renowned scholar and human rights activist from Mexico.
Participating groups include: Amnesty International at York, CARL Osgoode, Centre for Refugee Studies and its Student Caucus, CERLAC, Islamic Relief, RefugeAid, Refugee Health Outreach, U of Mosaic York U Fellows, UNICEF York and WUSC Keele.
For more details, please visit http://www.osgoode.yorku.ca/refugees/events/2017-refugees-welcome-week-march-6-10/
and
http://yfile.news.yorku.ca/2017/03/05/york-students-lead-the-way-during-refugees-welcome-here-week-at-the-keele-campus/
See the latest updates on the event's facebook page: https://www.facebook.com/events/170781343416331
Please check out and attend the week's events and give generously to support York community sponsored refugee students! Our social media hashtags for the week are #yurefugees , #yurefugeeweek and #refugeeswelcome .
These activities are in part inspired by a Canadian Council for Refugees and Amnesty International Canada Refugees Welcome Here! campaign.