When:
September 28, 2021 – October 1, 2021
all-day
2021-09-28T00:00:00-04:00
2021-10-02T00:00:00-04:00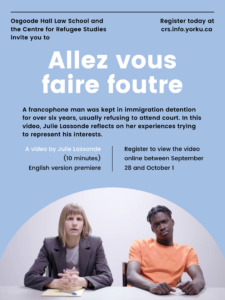 Osgoode Hall Law School and the Centre for Refugee Studies invite you to the online English language premiere of the video Allez Vous Faire Foutre by Julie Lassonde. Register today to receive a link to view the video online between September 28 and October 1.
Julie Lassonde is a performance artist and a social justice lawyer. As part of her social justice work she served as a Designated Representative for a Francophone man who had been in immigration detention for more than 6 years, in a maximum-security institution, co-mingled with people serving criminal sentences, all because he was considered a flight risk. He refused to participate in detention reviews during most of that time. In this video work, Julie explores her experience attempting to communicate with the person involved, her experience with the immigration detention review process, and her experience with a habeas corpus application that she brought with legal representation by Swathi Sekhar when multiple immigration detention reviews did not result in release.
We would like to acknowledge generous funding support from the Ontario Arts Council, an agency of the Government of Ontario, for this video work.
A link to the video will be circulated to participants who register here.