When:
February 5, 2018 @ 11:30 AM – 1:00 PM
2018-02-05T11:30:00-05:00
2018-02-05T13:00:00-05:00
Where:
519 Kaneff Tower
4700 Keele St
Toronto, ON M3J 1P3
Canada

Guest Speaker: Michael J. Molloy
The fall of Saig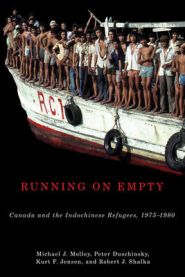 on in April 1975, resulted in the largest refugee resettlement effort in Canada's history. Running on Empty describes the actions of a few dozen men and women who travelled to seventy remote refugee camps in order to resettle thousands displaced by war and oppression. This volume presents first-hand accounts of the officials tasked with selecting refugees, receiving and matching them with sponsors and helping integrate the newcomers in communities across Canada. Running on Empty offers lessons for governments, organizations, and individuals trying to come to grips with refugee crises in the twenty-first century.
Authors
Michael J. Molloy, Canada's former Ambassador to Jordan, was involved in refugee affairs throughout his career. He led implementation of the refugee provisions of the 1976 Immigration Act including the private refugee sponsorship program. He coordinated the resettlement of 60,000 Indochinese refugees in 1979/80. He was involved in the Czechoslovakian and Ugandan Asian refugee movements. He is president of the Canadian Immigration Historical Society and Honorary Senior Fellow at the University of Ottawa's Graduate School of Public and International Affairs.
Peter Duschinsky was a Hungarian refugee to Canada in 1957 and is a retired Canadian foreign service officer. He managed the Ethiopian refugee movement from Sudan to Canada in the early 1980s. As director of International Liaison in the late 1980s he coordinated Canada's relations on migration and refugee issues with multilateral organisations, including the UNHCR and the EU.