When:
February 2, 2016 @ 3:00 PM – 5:00 PM
2016-02-02T15:00:00-05:00
2016-02-02T17:00:00-05:00
Where:
626 Kaneff Tower
York University
Toronto, ON M3J
Canada

Contact:
Michele Millard
416 736 2100 ext 30391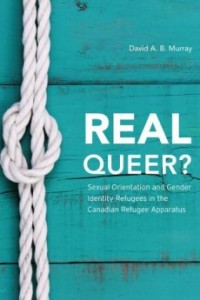 The Centre for Refugee Studies at York University is holding a panel discussion and launch for Prof. David Murray's new book "Real Queer? Sexual Orientation and Gender Identity Refugees in the Canadian Refugee Apparatus".
An ethnographic exploration of sexual orientation and gender identity (SOGI) refugee claimants' experiences of navigating the complex discourses, protocols, practices and personnel of Canada's refugee determination system.
Summary
"How do I prove I'm gay?" This is the central question for many refugee claimants who are claiming asylum on the basis of sexual orientation persecution. But what are the inherent challenges in obtaining this proof? How is the system that assesses this predicated upon homonormative frameworks and nervous borders? What is the impact of gender, race and class? What is an 'authentic' sexual or gender identity and how can it be performed?Real Queer? is an ethnographic examination of the Canadian refugee apparatus analysing the social, cultural, political and affective dimensions of a legal and bureaucratic process predicated on separating the 'authentic' from the 'bogus' LGBT refugee. Through interviews, conversations and participant observation with various participants ranging from refugee claimants to their lawyers, Refugee Protection Division staff and local support group workers, it reveals the ways in which sexuality simultaneously disrupts and is folded into the nation-state's dynamic modes of gate-keeping, citizenship and identity-making, and the uneven effects of these discourses and practices on this category of transnational migrants.
Guest panelists:
Amar Wahab, Assistant Professor of Gender and Sexuality in the School of Gender, Sexuality and Women's Studies
Wenona Giles, Professor, Department of Anthropology and CRS Resident Scholar
Enakshi Dua, Associate Professor, School of Gender, Sexuality and Feminist Studies
David Murray (author), Professor, Department of Anthropology
The panel will be followed by book sales and reception in the adjacent resource centre.
Co-sponsored by the Sexuality Studies Program, School of Gender, Sexuality and Women's Studies