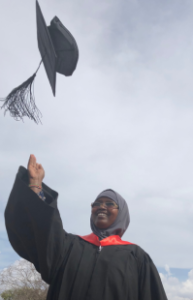 The Centre for Refugee Studies is delighted to announce that Dahabo Ibrahim is the inaugural recipient of the Anthony Richmond Scholarship.
This new scholarship recognizes promising graduate student research on the intersections of forced migration and environmental changes, such as climate change, flooding, drought, forest fires, and land or sanitary degradation.
The scholarship was created by Freda Richmond in memory of her husband, Anthony (Tony) Richmond, Professor Emeritus at York University. Tony established the Department of Sociology's graduate program and was a founding member of the Centre for Refugee Studies. He was known for his civility, lack of pretense, sense of fairness and commitment to scholarly life, as well as his encouragement to women scholars in sociology. His academic interests began with studies in race relations and moved on to migration, refugees and refugee policy. His final book, "Global Apartheid: Refugees, Racism and the New World Order", examined policies that 'White' and wealthy countries had instituted to restrict the number of migrant workers and refugees from developing countries – describing the result as a form of Global Apartheid.
Dahabo Ibrahim is pursuing her Masters in Education at York University's campus in Dadaab, Kenya, through the Borderless Higher Education for Refugees (BHER) project. This project aims to make educational opportunities available where refugees need them, with a particular focus on gender equitable programs.
Dahabo's graduate research focuses on climate justice education, examining tree planting campaigns to combat deforestation near refugee camps. Inspired by research methodologies and literature in environmental education, ecofeminist postcolonial studies and African Indigenous studies, her research seeks to support tree planting efforts undertaken in collaboration with educational programs in refugee camps.
The Richmond Scholarship is administered by the Centre for Refugee Studies. According to CRS Director Sean Rehaag:
"There was a strong pool of applicants for the scholarship, which demonstrates significant interest among York graduate students in research at the intersections of environmental change and forced migration.
Dahabo's application stood out based on her impressive and highly topical research and her strong academic performance. The adjudication committee was also very pleased to see research about forced migration undertaken by a York scholar with lived experience in this area."
BHER Co-Director Don Dippo was thrilled to hear the news, noting that "the whole BHER community will celebrate Dahabo's achievement."
President & Vice-Chancellor Rhonda L. Lenton also extended her congratulations. "Dahabo's research exemplifies York's commitment to creating positive change in the world, no matter where in the world we happen to be located. The BHER project shows how empowering students to collaborate and innovate to address global challenges can produce extraordinary results, for themselves, their communities, and for people everywhere."
CRS congratulates Dahabo and looks forward to seeing where her exciting research takes her next.
To support the Anthony Richmond Scholarship, please visit: giving.yorku.ca/Richmond