Nov
6
Mon
2017
Refugees Welcome Here! Winter Coat and Clothing Collection
Now Until December 5th!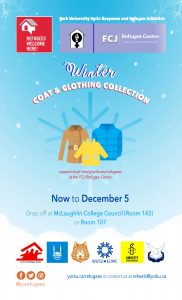 As par
t of the York University Refugees Welcome Here! campaign we are collecting coats and
winter clothing to support local immigrants and refugees at the FCJ Refugee Centre to (literally
!) help give a warmer welcome to our community.
We are also tabling to raise awareness of refugee issues and invite students to join this campaign.
WUSC York – Keele
,
Amnesty International at York (AIY)
,
York University Syria Response and Refugee Initiative
,
Islamic Relief at York University, RefugeAid
and the McLaughlin College Council are collaborating and helping with the collection of these coats.
Coats may be
dropped off at Room 107, McLaughlin College OR McLaughlin College Council or when the respective organizations are tabling until December 5th.
The York University Syria Response and Refugee Initiative is providing logistical support. Please visit our site at www.yorku.ca/refugees to learn more and to get involved!