Nov
6
Mon
2017
Refugees Welcome Here! Winter Coat and Clothing Collection
Now Until December 5th!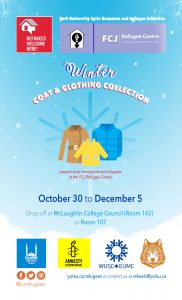 As par
t of the York University Refugees Welcome Here! campaign we are collecting coats and
winter clothing to support local immigrants and refugees at the FCJ Refugee Centre to (literally
!) help give a warmer welcome to our community.
We are also tabling to raise awareness of refugee issues and invite students to join this campaign.
WUSC York – Keele
,
Amnesty International at York (AIY)
,
York University Syria Response and Refugee Initiative
,
Islamic Relief at York University
and the McLaughlin College Council are collaborating and helping with the collection of these coats.
Coats may be
dropped off at Room 107, McLaughlin College OR McLaughlin College Council or when the respective organizations are tabling until December 5th.
The York University Syria Response and Refugee Initiative is providing logistical support. Please visit our site at www.yorku.ca/refugees to learn more and to get involved!
Nov
21
Tue
2017
CRS Seminar: "Step into the Past": Institutionalizing Performances of Immigration at Pier 21 in Halifax, Nova Scotia

@ 626 Kaneff Tower
Nov 21 @ 2:30 PM – 4:00 PM
Guest Speaker: Morgan Poteet
Visiting Scholar at Centre for Refugee Studies, York University
Co-author: Andrea Terry, Lakehead University
This presentation is based on an institutional history and analysis of recent guided tour programming offered at the Canadian Museum of Immigration at Pier 21, exploring its simultaneous dependence on and entrenchment of volunteerism. Based on an analysis of the motivations and achievements of volunteer collectives, guided tours and interpreter interviews, we approach Pier 21 as an example of "heritage as performance" (Smith, 2006). Exploring the site as the result of memory-making processes indicates tensions between bottom-up activities mounted by local community members and state-sanctioned heritage designation policies, as well as national(ized) narratives.
Smith, Laurajane. 2006. Uses of Heritage. London and New York: Routledge.
Morgan Poteet has conducted research on belonging for Central American youth in Toronto and international students in the Atlantic region of Canada, youth-police relations in New Brunswick, and refugee integration in Scotland, UK and Atlantic Canada. Poteet teaches courses on immigration and settlement in the Department of Sociology at Mt. Allison University in Sackville, New Brunswick, Canada. He is Past President of the Canadian Association for Refugee and Forced Migration Studies (CARFMS), currently Director at Large on the CARFMS Executive, and a Visiting Scholar at the Centre for Refugee Studies (CRS), York University, Toronto.
Challenging Trafficking in Canada Policy Brief Launch

@ 519 Kaneff Tower
Nov 21 @ 4:00 PM – 5:30 PM
The Centre for Feminist Research and the Centre for Refugee Studies Present:
Challenging Trafficking in Canada Policy Brief Launch
519 Kaneff Tower, York University
Tuesday, November 21, 2017
4-5.30pm
Challenging Trafficking in Canada presents information about human trafficking interventions as they impact sex workers, Indigenous women, migrants, youth, and other marginalized groups. Drawing from established research and consultations with organizations around the country, the policy brief analyses how anti-trafficking policies, laws and practices often cause violence and harm to those they are intended to help, especially Indigenous, racialized and migrant sex workers. It offers an alternative to misinformation, exaggerations and unfounded claims that often circulate through the media and public discussion.
Join us for a conversation with community organizers about the Brief and how issues of labour exploitation, criminalization, and precarious migration status impact local and migrant workers across multiple industries.
Lead editors of the policy brief:
Dr. Kamala Kempadoo & Nicole D. McFadyen (PhD Candidate), York University
Panelists:
Elene Lam, Director
Butterfly: Asian and Migrant Sex Workers Support Network
Syed Hussan, Coordinator
Migrant Workers Alliance for Change
Evelyn Encalada Grez, Organizer and co-Founder
Justicia for Migrant Workers
Andrea Sterling, Board Chair
Maggie's Toronto Sex Workers Action Project
About the panelists:
Elene Lam (LLM, LLB, MSW. BSW) Master of Law is the founder and executive director of Butterfly (Asian and migrant sex workers support network) and Migrant Sex Workers Project (MSWP). She has been involved in the sex work, gender, migrant and labour movement and activism for more than 17 years.
Evelyn Encalada Grez is co-founder of the award-winning collective Justicia for Migrant Workers. She was part of the films "Migrant Dreams" and "El Contrato" directed by Min Sook Lee that features the injustices lived by migrant workers in Canada. She is contract faculty at York University and a PhD candidate in Social Justice Education at OISE of the University of Toronto.
Andrea Sterling is a PhD candidate in the Centre for Criminology and Sociolegal Studies at the University of Toronto. She is currently the Chair of the Board of Maggie's: Toronto Sex Workers' Action Project, and has been involved with sex working communities in Montréal and Toronto since 2006. Andrea was involved in the development of the policy brief as a contributing member of the editorial and research teams representing Maggie's Toronto. Her research examines sex work and modes of regulation and is guided by the lived realities of sex workers in her community.
Supported by: Maggie's Toronto
Sponsored by: Centre for Feminist Research, Centre for Refugee Studies, Department of Anthropology, Department of Social Science & International Development Studies at York University.
Please RSVP to juliapyr@yorku.ca. Light refreshments provided.